If you have chosen a creative proposal idea with the possibility of having a romantic picnic with it, here are my tips for creating an easy, yet tasty outdoor meal for you and your lady. Before I really get into it, there are a few things I would like you to remember. First: It is not necessarily about the food. While having tasty food would be great, it is not an absolute must in most cases. The day is about the proposal, so you just want to make sure you have what it takes to make that happen. Second: Don't make it so difficult that you spend more time on the meal than you do immersing yourself in the day. You also don't want to make it so fancy that you have to hire a waiter to provide service. Lastly, keep it fun and personal. Duck pate and crumpets are probably not the right things for you and your lady. If a picnic of Twinkies and Ho Hos is your thing, then own it as long as it fits your proposal theme.
Here are a few ideas on planning a picnic for your lady.  There are a couple of different options for the style of picnic, from the backpacker style all the way to the super fancy.  You can make your own meal or buy the food that you will be eating.  Don't forget there is more to the meal than just the food.  There is also the vessel to carry the food and drink in.  We are going to be covering all of them.  By far, my favorite is always going to be using a traditional picnic basket.
Let's start with types of food to prepare.  By far, the easiest way to do this part of a picnic is to hit up your local Subway, Moe's, or other healthy(ish) fast food joint and get her favorite item from there.  This is great because you can get the drinks and everything all in one place.  While I love a fountain drink, I have to say that your best bet here is something that has a screw top so you can pack it away without worrying about it spilling.  Plus it can stay hidden.  In the weeks or months leading up to your proposal, take her to the place you plan on buying the food from and make a note of exactly what she orders so you can duplicate this later.  Earlier I said healthy(ish) only because I care about you.  If triple cheeseburgers and extra big a** fries (brought to you by Carl's Jr.) are your jam, then by all means, go for it.  It is all about what is special to the two of you as a couple and you want it to mean something to her.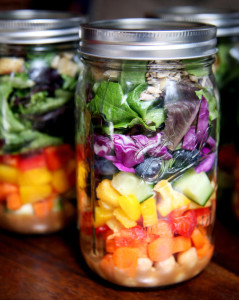 If you want to prepare your own meal (I highly recommend it to make it that much more special), then you should check out these awesome mason jar salad ideas from the awesome folks at Buzzfeed.  They are compact, pretty, and easy to make.  You can make them ahead of time and they will keep well overnight if necessary.  Sandwiches are always easy to make.  You can make them ahead of time and wrap them up inside individual brown bags with some chips and a drink if you want to make it simple.  There are literally hundreds of other ideas you can come up with depending on your relationship.  Don't forget to pack a couple of bottles of water, soda, or even some Copa de Vino.  All these types of foods and beverages can easily be transported in a backpack, picnic basket, or small cooler.  So they are great if you are going to the mountain top or just your local park.
Another option for you would be to provide a bit of a fancier meal for your picnic.  A nice meal with some wine may be something more up your alley.  While they may be a little more difficult to pack, they can be just as fun.  Again, planning on how you are going to transport the meal is nearly as important as the meal itself here.  You can't plop a steak and potato in a brown bag and expect to cut it with a plastic fork on a paper plate.  The ants will certainly have the best meal of their life if you try.  This is where you will want to buy a nice picnic basket and the utensils to suit your meal.  Lucky for you, many places have picnic baskets that come with plates, cutlery, wine glasses, and even a tablecloth.  I recommend using Overstock.com to get yours.  Not only do they have a great selection, but you can also get hooked up with all kinds of special deals, earn points, and get free shipping on all your orders (no matter the size) if you sign up for their Club O Rewards Program
(which is awesome by the way).
Filling your fancy new basket can be as simple or as hard as you make it.  If you are not a culinary master, then perhaps you can do some call ahead ordering to a restaurant so you can just pick up her favorite meal and pack it in your basket.  You may need to buy some containers to pack it in since you are going to get the ugly Styrofoam ones from the restaurant.  You can also get a bottle of her favorite wine to drink over your meal.  I highly recommend this. In fact, many of the women I know would rather just have a bottle of wine and no food.
Some ideas for a fancier type meal would be a classic steak and potato.  You could opt for some lobster or crab legs if you don't mind getting messy.  You just want to be super careful with these types of meals if you are going to try them.  You don't want to get something already cooked that will get cold or spoil before you get to eat it.  You also want to consider the weather.  Nobody wants to be sawing on a steak while sweating a river down the back of their shirt.
I think a pretty good idea for a fancier picnic would be to get some nice food that you can prepare on site.  Lou Malnati's has some great steaks that you could do this way.  I have never grilled them, but I have prepared them on the stove, and they are delicious!  You can even get dessert or other sweet treats from them as well, so you won't have to do much legwork at all.  There are also other options for great steaks.  Chicago Steak Company is another great place to find great food for picnics or dinners.
Once you have the food and the vessel figured out, you will want to focus on the rest. You will want to pick up a nice blanket or giant sheet to lay down on the ground. You want her to be as comfortable as possible. That means keeping the itchy grass and critters off of you while you eat. Keeping the cloth from blowing away is always a challenge for a picnic. Something you can do for your picnic proposal is to use 4-8 large candles to put on the corners (and the center of each side if it is a bit more breezy). In this instance, since you will be outside, the scent probably won't matter as much as if you were doing it at home. I would still go with something that is her favorite, or something pretty neutral.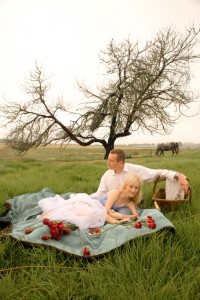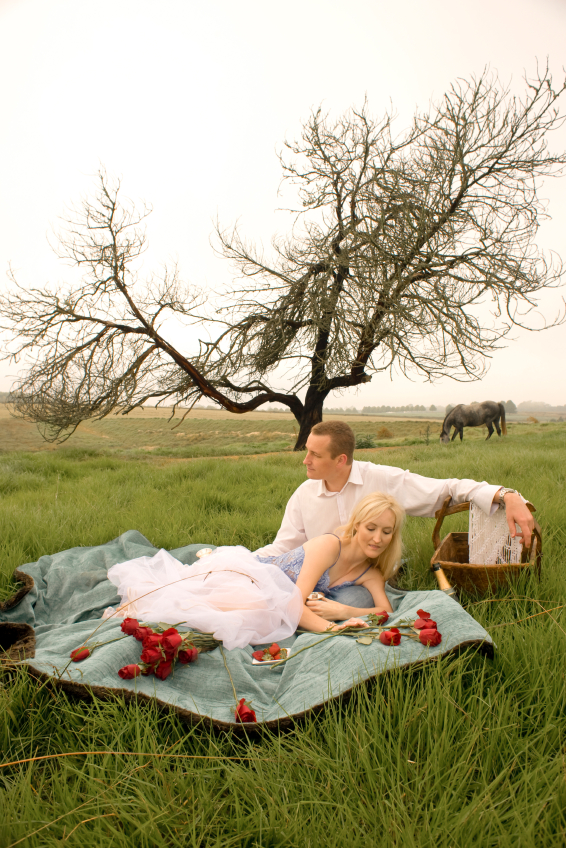 Now you need to decide if you are going to set up this picnic on your own or if you are going to have to a friend set up the picnic for you to "just happen upon it" or you can set it up yourself. If you have the opportunity to be taking a stroll in the park and happen upon a picnic, then using a friend to set it up for you is a great option. Another great option for using a friend to help you out would be any of the horseback riding proposals, scavenger hunts, geocaching, and any others where you are outdoors and in public. In these instances, you may think many things mentioned above do not matter, like the vessel. But the details are always important. You still want the setup to be romantic like something from a movie.  The person helping you can not only set up your proposal picnic, but if you ask nicely, I am sure they will also take it down and pack it up for you.  They can return it back to you later and she will have several new things she can place around the house to remember her big day.  You can even have one special one kept in the bedroom that, when lit, means romance is in the air.  🙂
As with many of our marriage proposal ideas, I highly recommend finding a photographer to capture he special moment.  A picnic proposal is one of the easiest ways to use a photographer because you will most likely be in a public place and they will be able to hide fairly easily.  Outdoor shots are great and the beauty of nature compliments the wonder of a marriage proposal very well.  Photographers have issues with lighting from time to time, but you can meet them ahead of time and scope out the best place and time to take pictures in the area you are going to be proposing.  Check out our page on finding a photographer to shoot your proposal here.
Are you planning on a picnic as a part of your marriage proposal?  Email me if you have any questions or want some help in getting it all set up.
If you want to show her a little romance right now, send a bouquet of flowers to her work. Or even better, how about some Shari's Berries? Yummy!
Don't forget to sign up for our newsletter and get your free eBook on the top 20 Creative Proposal Ideas, plus you will get tons of free tips from us as you plan your big day.