So you have decided to finally take the plunge. First things first…you have to start saving to buy a ring. While you are saving up, you have to figure out which one will make her eye sparkle as much as the stone itself. Lucky for you, she will decide what she wants, you just have to figure it out. Here are my tips on how to find out what ring she might want.
There are several ways to go about it depending on how sneaky you want to be about this. I wanted to be super sneaky about mine so I stalked Bekah's Pinterest page for things she may be pinning. I usually do this around other holidays (birthday, Christmas, etc) to find other gift ideas for her. In this case, she had a board set up for future plans.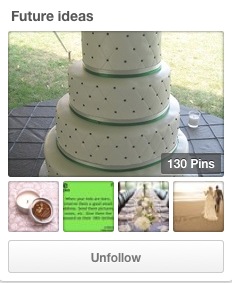 Inside I found several ring ideas. It was quite obvious that she liked a few key features of the rings she had pinned. First, nearly every one of them was a cushion cut, or as one of our friend's calls it, a sofa cut. The second almost universal feature of the rings she had pinned was that almost all of them had a halo around them. They were all white gold or platinum in color. Most of them had stones going part of the way down the band as well.
It was also apparent that she wanted a 3 band set so that she could have a small band to wear when it wasn't right to wear the main stone, like landscaping or cleaning house.
So I set off to my local jeweler armed with as much information as possible. Once I was there, I gave him my budget and the style of ring I was looking for. I also told him that certain things were more important than others. For example, I did not mind the number of inclusions as long as they were not visible to the naked eye but I would like the stone to be as clear as possible while making it as large as I could get. Since I had the Pinterest app on my phone, we could easily make sure we were on track.
You can see more of our tips on shopping for an engagement ring here.
Maybe your girlfriend is one of the 17 women left in the world that does not have Pinterest and you have to find another method. Don't worry, we can help you there too.
You can start by just using her computer. If she has looked at engagement rings in the past month or so, chances are there will be ads all over the place for them. You can also look at her search history or favorites. This is dangerous though. You may end up ruining a surprise gift she is thinking of getting you. If you can't find anything after a few minutes of looking, then you should move on to the next way of looking.
Perhaps your girlfriend has been pretty aggressive in telling you what she wants and has dragged you to the jewelry store already. I hope you listened. If not, maybe you can trick her back to one by buying a birthday gift for someone else there. Your Mom could always use a new charm for her bracelet or maybe your brother wants a nice watch. Whatever gets you there without raising suspicion. Just don't be a ding dong and forget what she likes this time.
You can also enlist the help of one of her friends. You can usually get their phone number from her phone or I am sure you know where they work. You can always call them there. Either way, in this day and age, there is no excuse for not reaching out.
Have her friend take her shopping or somewhere else that they can stop by a jewelry store. The actual store is unimportant because they are only going to be looking at styles of rings and deciding on which cut she likes. Her friend should know all the right things to look for, but in case they don't, tell them to find out the following.
What cut of stone she likes the best? Emerald, cushion, princess, round, etc.
What style of band does she like? Halo, solitaire, side accents, etc.
What color band would she prefer? Silver or gold?
Armed with the answers to these three questions and your budget, you can go do your thing. As stated before, you don't necessarily have to go to the same place she was with her friend (if that is how you found out). I prefer to use local places as much as possible as opposed to chains because I feel like I get better service. In many cases you will actually be talking to the owner or at least someone who has been with them a while as opposed to a shorter term sales clerk. But that is just me. I probably pay a little more than going to a chain, but I do like the more personal service that comes with it. It may also make this creative proposal idea more possible.
You should tell the jeweler that you are looking for an engagement ring with a ___ cut on a ___ band. Tell them that you want to stay between __ and __ carats and your budget is ___. He will ask you about the color and clarity. Tell him you want as much quality as you can get for your dollar. Some things just can't be done, so if you say you want a 2 carat stone with no inclusions and E in color for 2 grand, be prepared to be laughed out of the joint. This is why I like working with more local places. They are usually more informative and can work with you as much as possible. Many times if you are close in price, they can dig to find more stones that might get you in budget. As an example, there are different institutions that certify stones. The EGL, GIA, and AGL grade a little differently, some a little more liberal than others. So you may be able to get a stone that is graded a little lower from one lab that looks just as good as one graded higher from another lab for several percent less in price.
Now is the time for patience. It may take a couple of rounds of looking at stones to find the right one…or the right selection for her to make the final decision. Any good jeweler will be more than happy to keep trying to help you find the right one. Remember, this is an investment for life, don't rush it.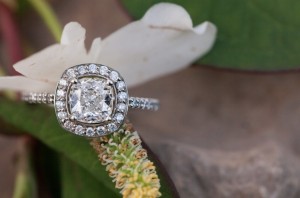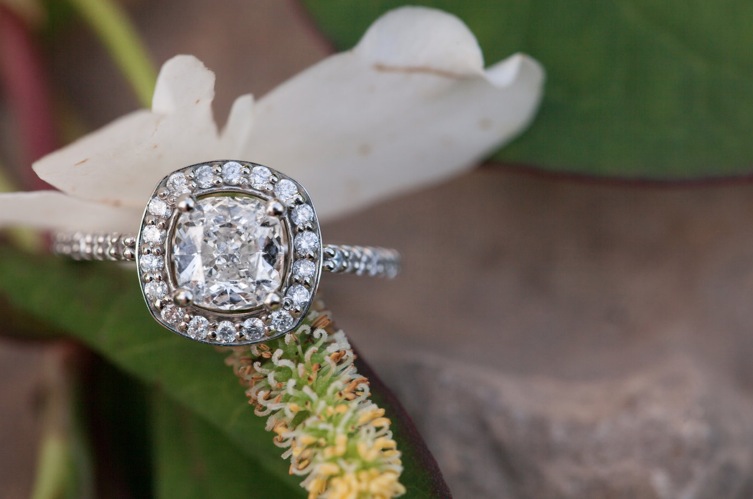 Since you are in a loving mood, take the time to send her a bouquet of flowers to her work. Or even better, how about some Shari's Berries? Yummy!
What do you think about this post? Any tips you want to share with us? Email us and let us know.
Don't forget to sign up for our newsletter and get your free eBook on the top 20 Creative Proposal Ideas, plus you will get tons of free tips from us as you plan your big day.