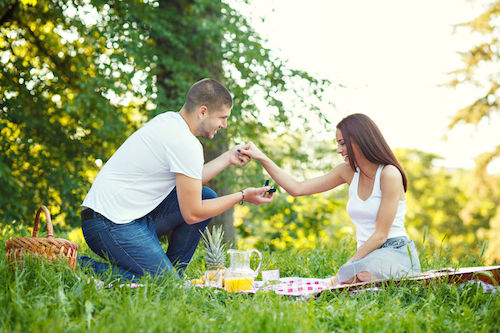 What you say when you propose is a very personal monologue that you give your girlfriend.  It is tough because you want to keep it short and sweet, but at the same time you want to tell her how much she means to you.  While I am not going to craft some outlandish proposal scripts, I will touch on some things that are popular and fairly foolproof if you get choked up or lose your words.  To be honest, I had no idea what I was going to say beforehand and could not even tell you what I said exactly at this point.  But I am a fly by the seat of my pants guy when it comes to stuff like that.
In my opinion, there are a few key things you want to convey in your proposal.
1.  Say her name and tell her how much you love her.  There are a zillion ways to say it.  You can use ones that are already out there or say something only the two of you would understand.  Like "I love you more than white fudge covered Oreos".  Either way, chances are you don't tell her enough and if there was ever a time to do it, this is the one.  Some more ways to say it are below.
I love you to the moon and back.  This would fit perfect for the Planetarium or Meteor Shower Proposals.
I Love you from the bottom of my heart.
You are my soulmate.
You are my everything.
You are the love of my life.
I am head over heels in love with you.
2.  Now that you have told her the most important thing you can tell her, you can move on to why you love her.  I am sure there is not enough time in the day for you to tell her all of them, but you can certainly knock out a couple.  This is a place you can toss in another pretty common way of telling someone that they are so very special to you, just in an indirect manner.  Here are a few examples.
We are perfect for each other because…
We were meant for each other…
We fit together like…
You make me want to be a better man.
You make me feel…. (just make sure to not be selfish and tell her you want to make her feel that way too)
3.  Ending the proposal should be fairly easy to wrap up.  You are simply stating to her what you want.
I want to spend the rest of my life with you.
I want to grow old with you.
I want to share our life together.
4.  And then pop the question.
Will you marry me?
Would you grant me the honor of being your husband forever?
Will you spend forever with me?
It is really not too bad.  Let's only hope she does not ask you to write your own vows.  Then the pressure is on!
Everything that is listed above outlines a short and sweet marriage proposal.  If you are wanting to add a little more meat to it, here are some more ideas you can add in if it suits you.
Before you tell her you love her, say her name and tell her how long you have been dating and that it is time to move on.  Tell her how long you have known she was the one and then start the steps above.
You can toss in some movie / book quotes in your proposal if you want, especially if they mean something special to either of you.
You complete me.  – Jerry McGuire
You had me at hello. – Jerry McGuire
When You Realize You Want To Spend The Rest Of Your Life With Somebody, You Want The Rest Of Your Life To Start As Soon As Possible. – When Harry Met Sally
No matter what has happened. No matter what you've done. No matter what you will do. I will always love you. I swear it. – Defiance
I don't care how hard being together is, nothing is worse than being apart. – Starcrossed
So it's not gonna be easy. It's gonna be really hard. We're gonna have to work at this every day, but I want to do that because I want you. I want all of you, for ever, you and me, every day. – The Notebook
If my love were an ocean, there would be no more land.  If my love were a desert, you would see only sand.  If my love were a star-late at night, only light.  And if my love could grow wings, I'd be soaring in flight. – Thirteen Reasons Why
It was a million tiny little things that, when you added them all up, they meant we were supposed to be together. – Sleepless in Seattle
I knew the second I met you that there was something about you I needed. Turns out it wasn't something about you at all. It was just you. – Beautiful Disaster
I promise to love you every moment of forever. – The Twilight Saga: Eclipse
I love you the way a drowning man loves air. And it would destroy me to have you just a little. – The Crown of Embers
I know there are many more ways to say all of the above, but these are the ones that just jump out at me.  If you have a favorite that is not included, leave it in the comments below.
And don't forget; nothing says I love you like Chocolate.  Take a moment to send some chocolate covered strawberries to her work.  "Just because" gifts are always the best ones.  Click here and get 15% off Gourmet Strawberries & Sweet Treats from Shari's Berries today!