My creative proposal story goes like this…
My fiancée loves to play Phase 10. She could play it for hours (this is not too difficult a task given how long it takes to play one game). So I decided I would turn her favorite game into a scavenger hunt. I can look back now and say it was pretty easy, but during the planning process I wondered if I was ever going to get it done. I have a tendency to bite off more than I can chew at times. This was no different.
Before I get too far into my creative proposal idea, let me say that organization is a key to making a nonstandard marriage proposal work. I used Evernote as my main t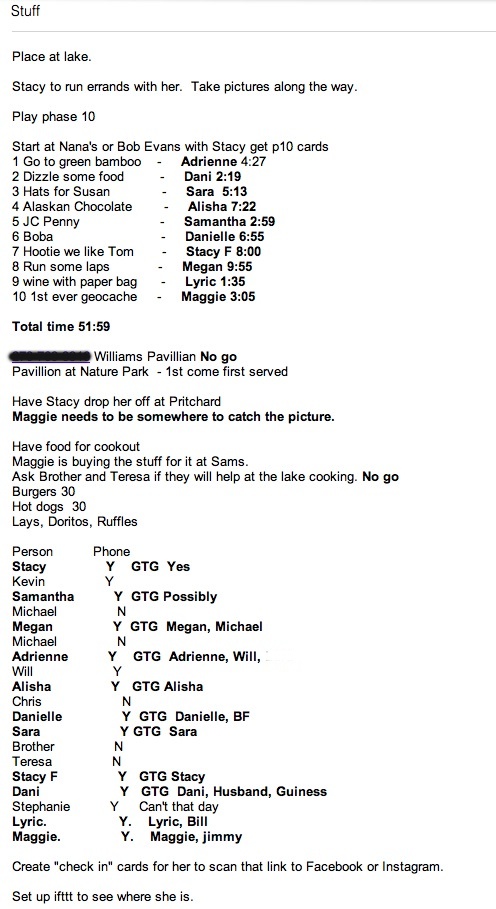 ask program. If you have never used it, you should. It is wonderful. You can sync between your phone and computer to make sure you never miss out on a great idea. Since most of mine happen in strange places like in the shower or in the bed, having my Evernote app handy helps tremendously in keeping those thoughts organized. You can see a portion of my actual note here.  You can also refer to it and try to follow my organization. You can also see that all plans don't workout and you have to go to plan B or bail on them completely.
The first challenge in this particular undertaking was trying to coordinate a dozen people in 12 locations at separate times.  Just getting the day picked out was tough enough.  I knew there is one friend she would want to share this day with, so I chose her as the driver.  All things started with her.  After finding out what her availability was, I reached out to a few more of her friends that I know she would want to see during the day.  As I contacted them, we were able to nail down a date for the hunt to take place.  From there I had to come up with the clues and stops for her scavenger hunt.
As with any creative proposal idea, each part of it should mean something.  From playing Phase 10 to having her friends help, I wanted to make sure they meant something to her.  The stops and clues for the hunt were no different.  I chose places we had been and used inside jokes only she should be able to understand.  Each of them had a purpose.  The first stop was easily going to be our first date.  I chose one of her most reliable friends to be there to give her the next clue.  While this is not necessary, the details can make all the difference; if not to her, certainly to me.  More on the rest of her scavenger hunt stops and clues come a little later.
Besides creating a fun marriage proposal for her, I also wanted to thank all the friends who helped make it happen and give her the opportunity to be a star for a little while afterwards.  This was tricky because she is not a huge fan of being the center of attention, but she does so much for so many other people, she deserves to be put on a pedestal every once in a while.  So I also planned a cookout for all the helpers and their plus ones.  See how things can start to get away from me pretty quickly?  You want to know the trick to pulling it all off?  Delegation and trust.  You have to give people tasks and trust they will do them.  A little paranoid follow up is necessary, but for the most part, you have to let some things go.  Before I get too far off track, let's get back to the hunt.
Our plan was to have Stacy (who lives out of town) and her mother take my fiancée out for breakfast the morning of.  Normally this would be tricky because I had to plan the date on a Sunday and we usually go to church on Sunday mornings.  But I was running in a Tough Mudder the day before so I pretended like I was going to be a wreck the following day and was not going to do doing anything except go from the bed to the couch.  She bought that one easily since the last two of them I did pretty much put me out of commission for a day.  I knew I would be able to suck it up this time because it was summer and I wasn't going to be halfway into hypothermia this time.  Once they were finished eating, my idea was to have the manager of the restaurant deliver an envelope to her that said "Do not open until 12:00".  I chose noon to kick it off to accommodate other church goers, specifically one who required a little extra drive time to get to her spot as well as two stops being in the mall, which does not open until noon.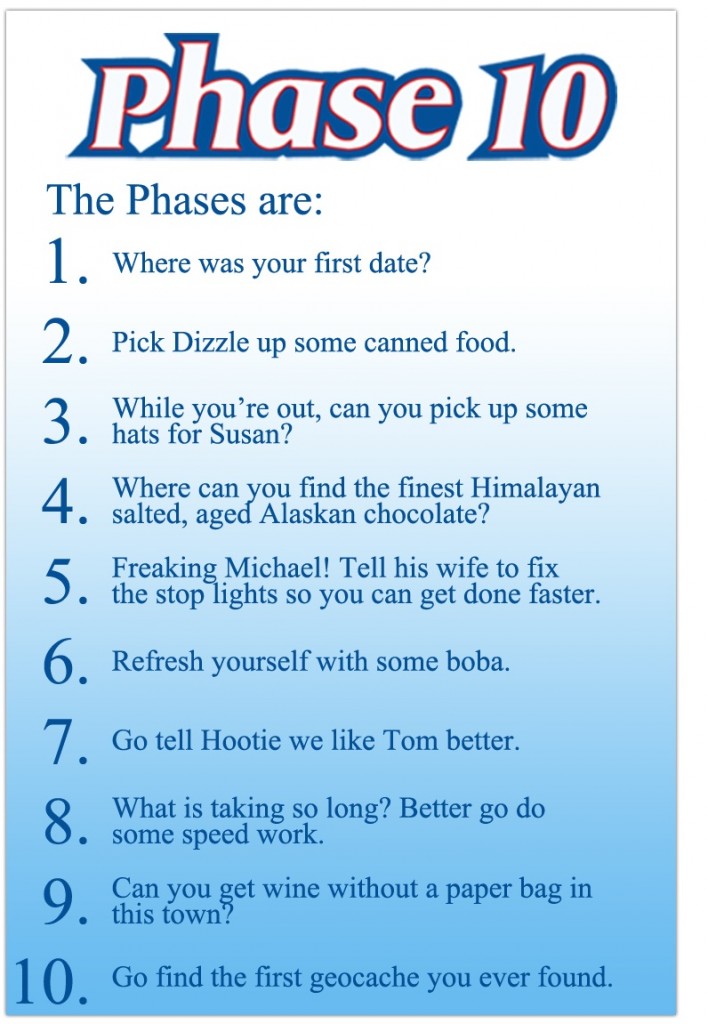 As I said before, the first stop was the place we had our first date.  This is kind of a no-brainer.  I chose one of her most reliable friends for this stop so I would not have to worry about it.
Her second clue was to go pick our dog up some canned food.  This could have been tricky since the key was canned food.  We buy her dry food to eat, but have to give her a little bit of a special canned food every day so she doesn't get jammed up and cause another $700 vet bill.  In any event, this was the vet clinic we take her to.  I chose her friend who has a dog that goes to the day care there.  They are always talking about their fur babies so having her be there was also an easy choice.
Third on the list was a stop to run an errand for me that my business requires.  I have a wonderful customer who orders quite frequently and they require embroidery to be done.  So I sent her to the place where the embroidery is done.  Since there was nothing special about this place to her friends, I just picked one from my list.
After that, she was on her way to the chocolate store in our local mall.  If you are looking at the card above (or the actual one below) and wonder what that means, it is one of those inside jokes.  But beyond that, what chick wouldn't want to go to a chocolate store?  Again, nothing special about this stop to her friends so I picked one.
Next she was off to go one of the stores in our mall where one of her friends works.  Normally she does not work Sundays, but this particular one was their store inventory and if anyone has ever worked in retail, you know there is no escaping that one.  Obviously in this case the person chose the stop instead of the other way around.
Back in the car again; she was off to one of the best places to get a frozen dessert.  Apparently on this one, the joke was more inside me than between the two of us and it stumped her for a minute, but she got it and off she went.  Again, since this was an inside joke between us, I just picked one of her friends for this stop.
The next stop was our church.  I had to make this one towards the end because her friend who she likes to talk about spiritual things with also had church that morning and it would take her some time to get to her spot.  Having this particular friend at this particular stop caused me to have to change the route so they did not make a nice loop around town as I had originally planned, but as I said before about details…It was worth it to have this friend and this stop.
She was hitting the home stretch now so the next stops were pretty much just getting her close to the destination.  Of course they still meant something, but I didn't want it to take her forever to finish.  So she headed to the high school track where I go to run intervals.  In this case I chose her friend who was due to have her baby in the next few days.  She has been on bed rest for the last couple of weeks and I wanted to keep her close to home so she would not have to be too uncomfortable.
From there she was off to the liquor store near our home where we learned in a very rude way that the places have to put bottles in paper bags.  That is a whole other story, but there is no way she wasn't going to get stumped on that one.  I had my sister at that spot because I wanted to have someone I trusted completely to not follow her to the last stop and try to peek.
The last stop was a community center in town that has an arboretum.  It is very pretty and just happens to be the first place we ever geocached, so it also had a special meaning.  Obviously I chose myself to be there since it was the 10th and final phase.  I also had a good friend and excellent photographer hiding in the bushes to capture the proposal.  It is rare to have that moment captured on camera if you don't do it in a public place like the Unhung Hero, but I wanted her to have that memory.  She is always busting my hump about how neither one of us ever remembers to take pictures when we do stuff.  Below is her favorite.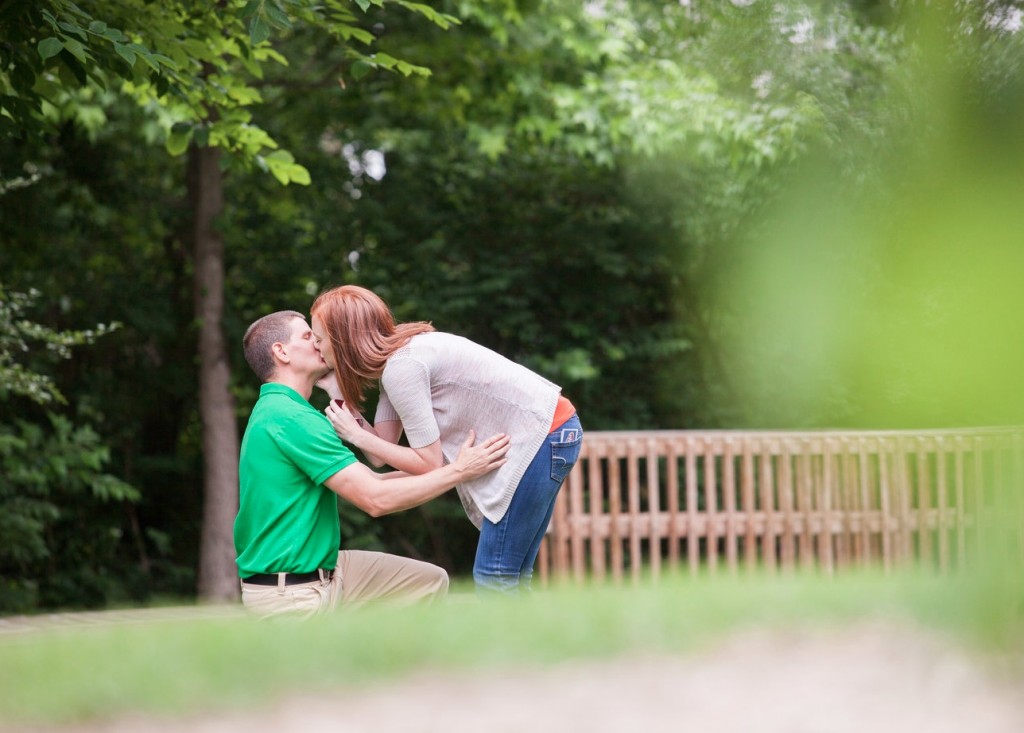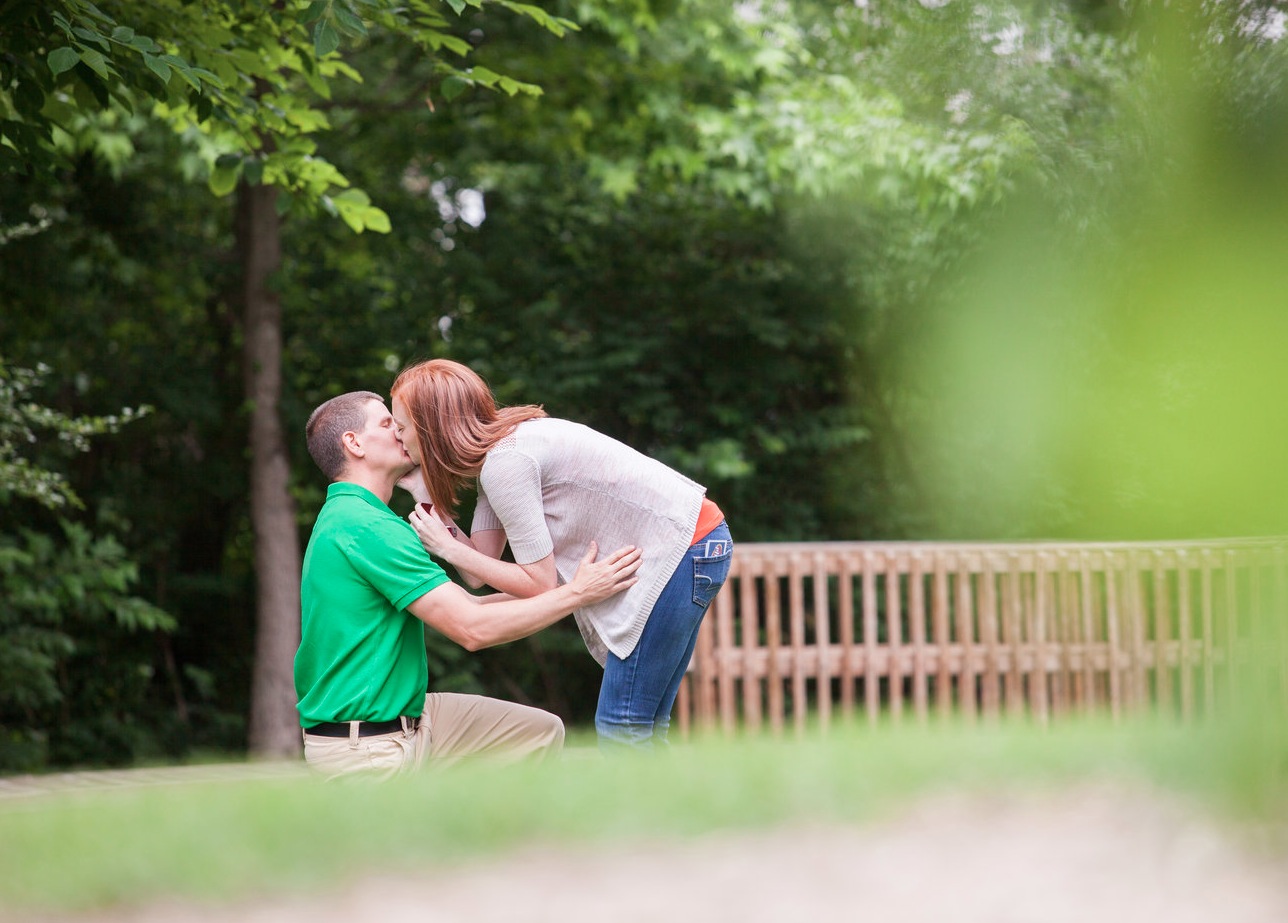 We took a few more pictures before leaving the proposal location and then headed over to the cookout (which she had no idea about yet).  We just told her we were going to the nature park to take some more photos.  When we arrived, she noticed the pavilion was full of her friends.  It was a great feeling to have her walk up and get to celebrate with her friends.  Most of them are already married and she has been there for them through all their weddings and babies, etc.  This part actually turned out to be the hardest thing to plan.  Coordinating the grill, tables, chairs, etc turned out to be tough because I was the only person with a truck when my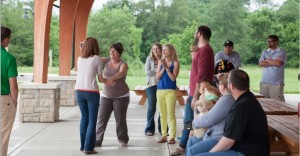 brother in law had to put his van in the shop.  We scrambled at the last minute and I let him borrow my truck since I was out of town on Saturday.  We made a good excuse for him to have it and made arrangements to get the items that I had staged at a friends house earlier in the week.  This same friend had done all the shopping for food for me, so they were able to get all the stuff to the park in one trip.  I feel bad for my sister and brother in law because they had to go to the pavilion at 9am to reserve it since it could not be booked in advance.
We all hung out for a bit while she shared the story and chatted with everyone.  Then it was on to make the announcements to our families.  Side note, in the prep for the big day I requested that everyone involved maintain a social media blackout until she posted something so that our family would not find out about it on Facebook or other social channel before we told them.  This may seem like common sense, but I was not about to assume that others would think the same.
You may be thinking you can't pull something like this off, but I assure you that it is possible.  If my scatterbrained self can do it in less than a month, so can you.  If you think it was expensive, I spent less than $150 on the whole day, most of it being food.  I will say that we have some of the greatest friends and family and I could not have done it without them.  It helps to be great friends with such a wonderful photographer.  It helps for her to have so many friends that were willing to do anything I asked them to do.  It helps to have a friend with access to tables and chairs (not that we needed them because there were plenty at the pavilion).  But even if it cost me twice as much, it would be totally worth it and I would not hesitate.  It is worth it to make her feel like a queen for a day.
Have your own creative proposal story you want to share?  Have questions about your proposal ideas?  Email me.