Here is a fun creative proposal idea that you may want to try if your lady has a commute that takes her by several marquees in your city.  It doesn't matter if the businesses in your area use the old school manual signs or the fancy new LED ones, you can still try to use them to leave her messages on the way home.  The only real risk here is that she might miss one or all of them, but chances are she will see them.
Earlier I said commute because you could set these marquees up so she sees them on her way home from work, but you can do it on any day.  It is just generally easier to predict her route when you do it on her route home from work.  If you decided to do it on another day, you could arrange it so you were with her or she was with a friend so it assures she drives by them.
You could actually have the sign say "Bekah, will you marry me" on them or you could try to get more creative / suggestive.  Another idea is to have them say "Bekah, you should marry Jerry".  Or have them say "Bekah, you should say yes later tonight".
Depending on how many marquees she drives by, you have some options for this creative proposal idea.  You can tell a story with the signs; especially if there are several close together. One of the signs could say "Hey Bekah!".  The next one could say "Jerry has…"  And the one after that could say "…something to ask you".  You could then be somewhere on her route home to actually propose.  Note: I do not recommend standing in the road or doing anything that would impede the flow of traffic, but that sure would be romantic if you could pull it off.  You would want to get the local authorities involved if you were going to do something like that.
If you did not want to be that direct with it, you could change what they say a little.  One of the signs could say "Hey Bekah!".  The next one could say "You sure are…"  And the one after that could say "…pretty today".  To be more discreet or to really try to get her attention, you can use your nickname for you as a sort of code so the whole town won't know until she does.
The execution of the marquee creative proposal idea is pretty straightforward.  All you have to do is determine the route she is going to take (whether it is from work or errands you send her on), and then reach out to all the businesses on the way to borrow their sign for a day.  Most places will likely do this for you for free, especially considering some places leave the same thing on their signs for months at a time.  One of the car wash businesses near my home had "Little salty…wash off here" on their marquee this spring until almost June.  Certainly they can take a day off from advertising for roads that have not been salted in months to help you out?  It actually will benefit them because they will be mentioned by all of your friends and family every time your story is told.  That kind of subliminal advertising goes a long way.
In case you cannot think of places with marquees, here is a short list to get your mind working.
Gas stations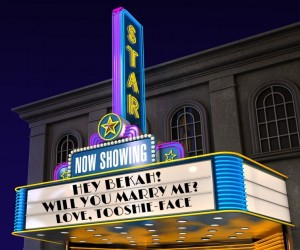 Movie theaters
Car washes
Restaurants / Fast food joints
Real estate offices
Churhces
Sports parks
Florists
Tire stores
Oil changers
Grocery stores
Another idea of something you can do to have fun with this creative proposal idea is to make her perform actions based on what the signs say. As an example, you could purchase some nice flowers for her and have the florist hold them in the cooler for you. On the marquee outside, you could have them put "Bekah, You Have Free Flowers Inside. Come In And Get Them". You can have something really nice written on the card. Or even better, you could be in the store, surrounded by flowers, to propose to her. You could do this for many places. A movie theater could "advertise" free tickets for her, a restaurant could advertise free dinner for her so she does not have to cook, etc. You are only limited by your creativity…actually, you are only limited by your and our creativity. If you need some help with coming up with what you can do, email us and we will try to help.
Don't wait to do something nice for your lady.  Send a bouquet of flowers or a gift basket just because. She will feel like a million bucks and you will look like a stud.