Asking your girlfriend to marry you in an aquarium is a very creative proposal idea.  This is a great one to do if you have a local aquarium or can also be an even bigger surprise to her if you choose to do it while you are on a vacation in a city that has an aquarium.  Most people don't necessarily think of an aquarium as a romantic place, but it is a good place to take her on a date for a day. You can make any date with your lady romantic no matter where you choose to do it.  You just have to make sure to pay attention to her and the details.  We will get more into those details in a minute, but first let's talk about getting you all set up with the aquarium.  Many people might think that you have to be some sort of event planner to pull something like this off, but that is simply not the case.  All you have to do is commit to doing it and there are people that help you get it done (we are some of those people, just email us with questions).
Using an aquarium to propose will require quite a bit of help from the aquarium management and staff.  The first thing you will want to do is have several dates in mind as well as a general idea of how you would like the proposal to go.  So simply start off with choosing the aquarium you would like to propose in.  Many aquariums are already prepared to handle a proposal using divers.  Some even have packages prepared for you to choose.  Here is the aquarium that is located closest to where I live.  As you can see, they are more than willing and able to accommodate your creative proposal idea.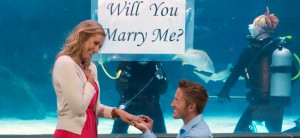 This costs a little money, but it is totally worth it because you are creating a memory that she will keep for the rest of her life.  When you consider that 80% of women were disappointed in the way they were proposed to, spending a couple hundred bucks to make it special is worth more than its weight in pearls.  While these are packages that the individual aquariums offer, I am sure there is some room for them to wiggle to make your proposal special.  I doubt that they are going to let you ride in on a dolphin of anything like that, but there are plenty of other ways you can customize it.  As an example, they let you use your own signs.  It costs more, and I am not sure if that is a flat fee or if it is per sign, but think of how cool it would be if you mimicked this music video with divers.  She may not be old enough to remember this video or even the song (I am not even sure if MTV even plays music videos anymore), but it is still cool.
Now that you have reached out to the aquarium and planned the date / time you want to have your creative proposal take place, it is time to figure out the rest of the day.  If you have read any of our other posts you know that we are not just about getting the proposal done and that is it.  You have to find a way to make a day out of it.  Or in some cases, even longer.  If you chose to visit an aquarium while you were on vacation (even a weekend trip to
Gatlinburg
counts as a mini vacation and can be romantic), then you can make her feel like a queen for two or three days instead of just one.
Let's say you are doing it as a one day event because the aquarium is close to where you live and there is no need for an overnight trip.  We will assume you have already taken care of the above plans and you are all set.  What else can you do to make the day special?  Well, for starters you can take control of the whole day.  How many times have you been in this situation…
Her:  What do you want to do today.
You:  I don't know, you?
Her:  Nothing in particular.
You:  Let's just hump.
Her:  Ugh.
While a strong argument can be made that you suggested a reasonable and fun activity, ninety nine percent of the time, your case is thrown out with extreme prejudice.  Since you are trying to make this day special, you should remove the possibility of this happening.  Send her flowers the day before and on the card say that you want to take her on a date the next day.  You can choose to keep it a surprise if she asks what you have planned or you can say that you feel like you have not been out in a while and you just feel like spending the day together.  You can even make up some story about a buddy of yours telling you that he saw some crazy snaggle tooth shark at the aquarium you think she would like to see before it goes extinct.
Start your date day off as early as is comfortable.  You don't want to make her feel like she is having to get up for work, but also don't sleep too late to make it seem like the day is half gone.  You want to pull a Goldilocks with the timing here and make it just right.  Hit up Bob Evans, Cracker Barrel, or your favorite breakfast joint on the way to the aquarium.  Depending on when you are set up with the aquarium, you may have to kill some time.  If that is the case, you should search around (beforehand) for things to do near the aquarium.  There are generally other places where you can do things.  Sometimes there is a park you can take a walk in.  There may be other touristy type things to do.  I remember when I was in Atlanta, there were Segway tours you could take that were fairly close to the aquarium.  Trust me, there are plenty of ways you can kill a couple of hours.  If you can't figure it out, just
email us
and we will help you figure something out.
You will want to get to the aquarium in plenty of time for your scheduled event.  If you are too early, you can always stop and look at the fish in certain places for long periods of time.  There are usually many types of things you can do that take extra time, like petting the stingrays, playing with the stuff that are there for kids to play with, etc.  The main thing you want to make sure of is that she is having fun.
Hopefully she has said yes.  Now what?  You have been sweating bullets all day and it seems like it is all over.  But think again.  You now have all night to celebrate your new engagement.  Hopefully you and the aquarium made an agreement to have a picture taken when you proposed and you have that memory captured on film forever.  You can also find a couple of places outside to take some pictures of the two of you.  Since you recently proposed, the pictures should come out great and she will most likely be all smiles.  You can ask random people to take pictures for you, you can take selfies, or you can buy a Gorillapod
to set up your camera in any place you want.
You should also take her out to dinner at a nice place.  Since you are in an area that has an aquarium, chances are there are some romantic dinner places as well.  Of course, I always recommend that you make reservations so you should research places ahead of time and pick the right one.  After dinner, instead of getting dessert at the restaurant, you should take her to get some ice cream, gelato, or some frozen yogurt.  Many of these places you can eat your dessert outside.  What this does is allows you to be with her all day in several locations.  In her mind it will seem as if you have been on a hundred dates because she will have so many memories of the day in so many different locations.  Each mini date will seem like a whole new day.  Mentally this makes the memory that much stronger.  Just don't get her so stuffed that the end of the night is not "exciting".  You don't want her to fall asleep, or worse yet, feel bloated and uncomfortable.
Also note that if you live more than a thirty minute drive from the aquarium, you may want to stay open to spending the night in a hotel.  You don't want to ruin the mood with an hour long drive.  It is also another opportunity for you to seem spontaneous because you can ask her if she would like to get a room and stay the night.  That opens the door up for you to wow her even more with a massage
, hot tub soaking, room service, etc.
Whatever happens throughout the day, just remember to stay happy and positive.  She is going to appreciate the hard work you put in and love you for making the effort to make her feel special.
Do you want to try this creative proposal idea and want some tips to help you pull it off? Email us and we will do what we can to help.
Lastly, while you are feeling romantic, show her just a fraction of how much you love her by sending a bouquet of flowers to her at work tomorrow. You will be the biggest stud she knows.