If your lady loves wine as much as Olivia Pope does, then a wine tasting marriage proposal could be the way to go for you.  Wine is inherently romantic, so incorporating it in with your marriage proposal is a no brainer.  Most places throughout the country have places where you can taste and buy wine.  If you are lucky, you may be near a place where there are actual vineyards and fancy places for you set your proposal up.  We will cover both of these options below.  As with all of our plans, I will focus on things that are local to me.  But have no fear, you will get plenty of ideas for how to set your proposal up no matter where you live.
I would be remiss if I did not start off by talking about the place where Bekah and I had our reception.  As you may know (if you are a dedicated reader), we were married on the beach with no family or friends in attendance.  We had a reception after we returned from our honeymoon at the request of our families.  We are both pretty introverted and neither of us enjoy being the center of attention, so we were not going to have any type of reception at all, but were eventually guilted into it.  The backstory aside, we had our reception at a place fairly close to us called MillaNova Winery.
Bekah found MillaNova through a friend who had a wine tasting there.  She enjoyed the atmosphere and the fact it was off the beaten path.  It is located in Mt. Washington; a small town between where we live and Louisville, where many of our guests would be coming from.  They were very friendly and easy to work with.  You have the option of renting out the whole place or just portions of it, so it can be made to fit almost any budget.  As you will find throughout your planning process, one of the things that is most frustrating about finding venues is that many of them force you to use their own catering or you only get a select few options that are almost always pricey.  We did not have to deal with too much of that, making the planning much easier on us.  They have a beautiful tasting room and the reception hall was the perfect size for our amount of guests.  In addition to those areas, they have multiple bathrooms and dressing rooms for those who choose to have their wedding there.  You have the option of both indoor and outdoor events, as the grounds are quite beautiful as well.
So if I were to come up with a creative marriage proposal for Bekah with a wine tasting theme, I would contact MillaNova.  I would most likely not rent out the entire place because I would want it to have other people there as well.  You could certainly reserve the entire place if you wanted.  Secondly, I would reach out to her best friend and fill her in.  From there she can help you with coming up with the other people you should invite.  In this case, I would invite as many of your (both of your) family and friends as you can think of.  Keep it as intimate as you like…or better yet, as intimate as she would like.  Just make sure that you keep everyone on lockdown until the last minute.  In this day and age it is tough to keep people off of social media, but you will need to make sure they do not spill the beans.
The great thing about using a winery to propose to your girlfriend is that there is minimal decoration necessary.  Most wineries are already decorated very well and are classy.  The only recommendation I could make for decorations would be that you should reach out to a photographer to capture your proposal.  You should meet them at the winery ahead of time so they can tell you the best place for you to propose.  By doing this, you can case the joint with them to find the right place for the photographer to stand, your lady to sit, and for you to go down on one knee.  The most popular tv shows still put an X on the ground where the host is to stand when performing their monologue.  Take note from the best and make sure you are prepared.  you will also have to make sure that the other tables and chairs are set so that there won't be any people in the way of the photographer when you pop the question.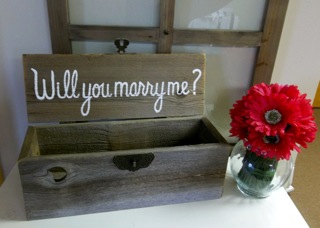 One addition you should look into for your wine themed marriage proposal is a custom wine box from Lisa Curry Designs.  You could have a special bottle of wine brought to her table in the custom box that has your proposal message inside.  When she opens it, you could have walked up behind her and got down on one knee.  When she opens it and realizes what is happening, she will turn around looking for you.  You will be there with the ring and do your thing.
Once she says yes, you have even more options to make it a super special day for her.  You can have a pianist play music for everyone while a group of serves comes out from the back with appetizers for the dinner you have planned.  Bam!  Didn't see that one coming did you?  She won't see it coming either.  Instead of just the two of you going out to a fancy dinner, you can have one catered at the winery.  Many of them have kitchens to work in, but even if they don't, a catering company will be able to keep the food warm for your guests.  Keep it simple.  Perhaps a steak and a chicken option for your guests with 3-4 of sides to choose from.  Since you will be planning this ahead of time, you can get all of your friends and family to order before that night so it will be easy to price and for the caterer to prepare.  Don't forget about the dessert.  Everyone will want some sort of crazy chocolate thing to munch on after dinner.
While you are in the mood, send a bouquet of flowers to her at work tomorrow. Or even better, how about an arrangement from Shari's Berries? Yummy!
Don't forget to sign up for our newsletter and get your free eBook on the top 20 Creative Proposal Ideas, plus you will get tons of free tips from us as you plan your big day.