If you have a lady who lives life on the edge, then make her fall for you…literally.  A skydiving proposal is certainly very unique and a great way to surprise her.  Chances are she will be so hyped up, either from excitement or fear, that she won't be on to you that you are going to propose.  Skydiving is certainly not going to be for everyone so if you think at all that she might not like it, stay away.  The last thing you want is for her to have digestive distress all day before and after you pop the question.  I can say for me that I would be totally miserable if any part of any event for me included me having to step foot in an airplane that was going to leave the ground.  So just make sure it is something she wants to do.
One glorious thing about this proposal is that you don't have to do the skydiving.  This gives you the option of staying on the ground in the "landing zone" to set up your proposal area for when she lands.  It is also awesome because you can buy her the skydiving trip as a birthday or holiday present and still have time to plan the proposal because she won't necessarily be doing the skydiving on her birthday or whatever holiday you choose.  She will have to make an appointment to do it…or better yet, you can make one for her.
The set up is pretty simple for this one.  You will need to book the skydiving package with your local adventure place.  Tell them what you are looking to do and ask if they have any specials for something like that.  You will want to tell them how many people will be going (her, you, a friend for photos, etc).  They may offer photography of videography as an option from one of their jumpers, so make sure to ask that as well.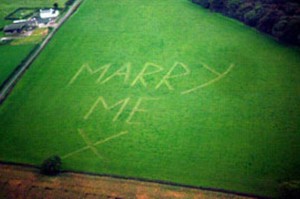 While you are on the phone with them (or in the office if you visit), make sure to ask what options you have for setting up a place where she is going to land that is in the shape of a giant heart or something else that means something to her.  Perhaps an infinity symbol, a huge diamond, a smiley face, etc.  If you really wanted to go all out, you could even try to make a crop circle or spell out your marriage proposal on the ground so she can see it on the way down.
This may be another place where you want to have a basket with some chocolate covered strawberries and champagne to toast with once she says yes.I wouldn't go for the full on picnic on this one, but a little something celebratory would be nice to have.  I can imagine a bottle of water would also be handy.  I know I would be screaming like a banshee the whole way down and would need something to ease my throat soreness.
I know I talk about it a lot, but documenting the event is something that can be very special.  If you opt to have someone take pictures or video on the way down, you may also want to have someone on the ground documenting the landing and your proposal.  You may think the same person can do it, but there is a reason tv and movies have multiple cameras; one just can't capture everything.  And when timing is super important (since you only get one take), then it can be money well spent to get it right.
Since I have never been skydiving, I cannot tell you what the best time of day to do it would be.  I can imagine that high noon might not be good because you don't want to be staring into the sun as she comes down.  This is another question you can ask the people when you call them to set it up.  I would think a sunrise or sunset one would be super pretty if they did them at those times, but that kind of timing and coordination would be really tough.
One big question you have to ask yourself about this proposal is what you are going to do afterwards.  Will she have such an adrenaline dump from the skydiving that she won't want to go and tell everyone about it.  Will she crash halfway through the day and not want to go out to a nice dinner?  These answers are very personal and only you will be able to gauge how she will react to the day.  My inclination would be to go ahead and plan to do whatever you think will continue the mood you want her to have throughout the rest of the day and if she decides she doesn't want to do something you have planned, then just cancel it.  You are going to be doing a lot of this throughout your marriage, so get used to it.  🙂
As is the case with any of our marriage proposals, if you would like some help in planning them, feel free and email us.  We will be more than happy to give you some suggestions for making the say as special as possible.
And please don't forget that love and marriage is a marathon and not a sprint.  Start your race off now by sending her bouquet of flowers at work.  Random acts of love will go a long way in your relationship.