A healthy argument can be made that a marriage proposal on top of a mountain is one of the best ways you can propose.  After all, you are making her feel like she is on top of the world by asking her to marry you; it might as well occur….on top of the work.
There are several different ways you can plan this creative proposal idea.  Obviously, you will need to find a mountain to climb…or hike up.  There are so many suggestions I have for you on that front that this is not the place to do it.  There are so many beautiful mountains in the world that choosing one should be up to you.  In most cases, you can choose a mountain that is closest to you.  You certainly don't have to trek up Everest to make your marriage proposal special.  Just about any peak will do.  One word of advice would be to try and find one that is not accessible by car so you won't be bothered by that noise and / or tons of people.  If it is off the beaten path, you are more likely to get a wonderfully private proposal with a fantastic view.
You also have some decisions on how you want the day or days to go.  If you and your lady are avid hikers, then maybe you could make this proposal a multiple day event where you hike a portion of the Appalachian Trail together and on the summit of one of the mountains, you make your move.  It does not have to be the AT; any trail will work as long as it has a peak worthy of your love for her.  I certainly won't waste your time with items to prepare for an overnight hike, as if it is something you are planning on doing, I am sure you have done it in the past and know how to prepare.  The only thing I will say is to really think about the basics and try to find a way to make them more special than a standard camping trip.  As an example, if you normally eat beans and rice everyday because you want to save pack weight, maybe for your proposal, you can suck it up and take something a bit more "gourmet".
Once you have decided on the location and number of days you want to make your mountain top proposal, you can start to plan.  Obviously you will need to make sure the trails / peak you are looking to make your proposal on is open and there are not any issues with weather related closures.  After that, it is time to make the plans for the trip.  At first we will focus on the single day plan since it will be easiest.  Not that they are going to be all that different, but there are some small tweaks for the multiple day version that we will cover at the end of the post.
For the one day hike, you can plan this on a weekend day and hopefully neither of you will need to take any time off.  I would make sure to set it up by telling her that you would like to go on a hiking date with her on X day.  If she questions it, just tell her you are stressed and want to spend some time with her without all the noise of a normal day.  If it is a multi-day hike, then you may need to take several days off.
Get a map of the area you are going to propose.  Do NOT rely on your phone for an app or navigation.  I can't tell you how many times I have been hiking and had no service.  If you are doing it right, then you won't have any service because the point of going hiking is to get out into nature and remove the outside world.  If that isn't reason enough not to rely on your phone; rain, dirt, rabid beavers, etc should be.  If you are talking about a big park, then you can get a map from Nat Geo.  If you are looking at a smaller area then I would imagine there are plenty of resources available online for you.  At the very least you should be able to pick up something at the park office.  We have maps available at the gate of a local park in our area.  It is not a mountain by any stretch of the imagination, but it has a nice hill with a fire tower on it. They also have a nice map on the website.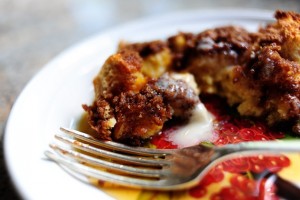 Armed with your map and a date (and hopefully a ring), then let's make this thing happen.  Since this is a single day creative proposal idea, you will most likely not be doing it at sunrise.  You will, however, probably want to get an early start.  You can do something very special for her for breakfast if you like.  Regular bacon and eggs are delicious, but maybe you would want to do something different.  I like this recipe for times where I want to make a special breakfast.  It takes a little work to get set up the day before, but it is super tasty and you don't have to do much the morning of other than cook it.  You may want to ask a friend to make this for you ahead of time as a test run.  I like it, but find it "eggy" as it is planned, so I use fewer eggs.  That may seem a little silly for you, but it is one of the biggest days of your life.  I think a test run on a new recipe is totally reasonable.  Your friend will love you for it because they will get to have a tasty breakfast once or twice on you.  One other thing to note, I prefer challah bread.  It is hard to find in stores and Panera generally only makes it on Saturdays, but you can call them and have them make you a loaf on Friday if you need one then.  Now that you have the recipe, figure out how you are going to get it prepared ahead of time (since this has to sit overnight).  If you can't make it without hiding it from her, tell her a friend made this and let you have some and you want to make it for her.
The morning of, you should get up a couple of hours before you need to leave and start getting breakfast ready.  If she likes coffee, then you can get that fired up as well.  Since you had to go to the grocery to pick up the items needed for the breakfast you made for her, you should have also picked up some gourmet beans that you freshly ground (if you are doing the multi-day version, then you can also take some of this coffee with you).  As your breakfast is cooking, you can be getting your pack prepared if you have not already done so.  You can also make a last minute check of the weather.  If you live in an area like I do, it is not out the ordinary for it to rain on one side of the street and not the other.  So just double check.  If you choose to pack a picnic for the two of you, then you can prepare it now and get it all packed up.  Wake her up about 15 minutes before the breakfast is done so she has time to wake up and brush her teeth, etc.  Most people don't like to just get up and immediately eat so let her pick the sleepys out of here eyes before you start surprising her.
As she makes her way into the kitchen or dining room, the smell of the gourmet coffee and your breakfast should be guiding her like Toucan Sam to Froot Loops.  By now you should have the table set with a couple of plates, forks, etc.  A nice touch would be a single flower in a vase in the center of the table (again, something to get at the store while you are grocery shopping).  Have her sit down, pour her coffee for her and bring her the creamer and sugar if you have not already got it on the table for her.  Bring her breakfast to her and serve her.  You can even be fancy and place a napkin (or paper towel) in her lap.  She will get a laugh out of you putting something as silly as a paper towel in her lap.  Hopefully she likes it.  If not, just roll with it and take her out.
After breakfast, it is shower time if you are a morning shower person.  You guys can figure out the shower arrangements on your own.  I can't help you there.  After that is all done and you are ready to go, double check your items and make sure you have everything you need.  This is where using Evernote really comes in handy.  You can have all your to do lists in there so you don't forget anything.
Head out to your destination.  If she wants to stop for some snacks at a gas station, let her.  In fact, you should offer to stop for some snacks.  She will appreciate it and it will keep the special day feeling rolling for her.  This is super important if you have a long drive ahead of you.  If you are going to be in the car less than 30 minutes, then I recommend you turn off the radio and just talk to her while you are driving…or better yet, you should listen to her.  Just make some conversation to get her started and she will most likely talk the whole way.  If she is even halfway on to you then she will be nervous and talk a lot.  If she is not on to you then she will still most likely talk the whole time anyway.  🙂  If you are going to be on the road more than 30 minutes then I think you should have a playlist set that you can put in with songs that are meaningful to the both of you and/or songs that she will like.  Try to keep the Rage Against the Machine out of the list even if she likes it.  While it is awesome to work out to, it  is not exactly the mood you are trying to set.  You just want to make sure that the car ride is not your average car ride.  Don't drive like a douche and ride bumpers, speed, etc.  Just take it easy and relax so the mood stays laid back and she does not get stressed out because you are nuts.
Once you are on location, get to your trailhead and get to hiking.  Again, take it nice and easy; especially if she does not hike very often.  You don't want to kill her before you get married to her.  Take some pictures along the way so you can have them later for memories of the day you got engaged.  Once you get to the top of the mountain and the time is right, then seize it.  There is no need to wait too long.  Just let her take in the beautiful view, say something sweet to her, and get down on one knee.
Of course she is going to say yes.  Once she does, you can sit there taking in the beauty for a little while longer and hold her close to you.  There are very few times in this loud life that you will get to spend in absolute peace and joy.  Make them last as long as you can when you have them.
Lay out your picnic and have a nice lunch together before you start to head back (or head on for a multi-day).  The hike in will probably be a little faster than the one on the way in because she will be excited…and it is downhill.  While you have your playlist put together, you may end up driving home just listening to her talk on the phone the whole way.  By the time you get home she will probably have changed her status online, posted pictures, talked to her family and friends, etc.  She will probably be super excited.
On the way home, you can ask her if she would like to go out for dinner that evening with you.  It does not have to be fancy if you don't want it to be; especially if you live far away from nice places.  Though you could plan to stay at a nice hotel on the way home.  This is a great idea if you have a drive longer than an hour to get to the mountain and there is a nice place along the way.  You could get a room at a nice place, get cleaned up from the hike.  Get dirty after cleaning up, then get cleaned up again.  Heh.  Then go out to dinner.  If you do this, you will just have to make sure to pack some clothes and toiletries for both of you.
Whether you stay in a hotel or just go home, after dinner go to the bedroom and get it prepared so you can give her a nice massage.  After all, she just went on a long hike and probably needs a full body rub down for no less than 30 minutes.  Having a playlist for this is also a great idea.  You can play some music nice and low while you rub her from head to toe (or ankle in my case since I absolutely detest feet and would almost rather have an owl vomit in my mouth as opposed to touch them).  Don't forget to have some candles burning instead of the light on in the room.  You can also get some nice massage oils to use to make it an even more romantic experience.  By now it has been a long day and you should start getting ready to turn in.  End the night however you want.  I'd rather not map that part out for you.
The timing of this creative proposal idea can be changed a little if you don't want to do breakfast or have a picnic, etc.  These are just ideas for you.  The main thing you want to make sure to consider is to think about each part of the day and make is as special as you can.
If you are wanting to do the multiple day mountain top marriage proposal, there is more below our sign up form so make sure to keep reading…after you sign up of course.  🙂
Do you want to try this creative proposal idea and want some tips to help you pull it off? Email us and we will do what we can to help.
Lastly, take a minute right now to show her you love her and send her a bouquet of flowers. You will be the make her week.
For those of you who are still trekking along with us on the multi-day version, there are a few changes you may want to make to your plan.  Starting with the obvious she will need to know what she is in for and you will need to have her help you pack for the trip.  The great thing about that is that you won't have to be near as sneaky.
The first day of your mountain top marriage proposal can be pretty much the same.  One thing you can do differently is the actual proposal itself.  If I were doing a multi-day proposal and had the opportunity to be out in nature during a beautiful sunrise or sunset, I would do it during those times.  Since you are on top of a mountain, you should be able to choose either since you should have a great view of the sun as it goes up and down.  Personally I would want to try and go for the sunrise version just because it symbolizes the dawning of a new time in your lives together.  Of course there is something to be said for doing it at sunset and having all night together in the tent to celebrate.
I would still go for the sunrise on the second day so we could decide on whether or not we wanted to keep going with the hike or head back home.  If we decided to head back home, then the details of the second part of the day can be the same as the second part of the one day version.
Did we miss anything or is there anything you want to add to this creative proposal idea?  Leave us a message in the comments or email us and let us know.
While you are online planning your route, take a moment to send a bouquet of flowers to her at work tomorrow. An arrangement from Shari's Berries is even better? Yummy!
Don't forget to sign up for our newsletter and get your free eBook on the top 20 Creative Proposal Ideas, plus you will get tons of free tips from us as you plan your big day.