Perhaps you have a great "first met" story or maybe the place you met has some special meaning for both of you.  Either way, heading back to where it all began is a great creative proposal idea.
Since there are so many places and so little time, we can focus on a basic theme of places.  I'll list out a few I can think of off hand.  If you have a great place that you met and I leave it off, email me or let me know in the comments.
Restaurant
Let's say you met sitting at the bar of a restaurant, or in the lobby.  Your creative proposal could be to reserve a special section of the restaurant so they won't seat anyone near you so that you can have a quiet time together as you walk down memory lane.  At some point you can say that you are happy to have met her there and would like to "meet her all over again for the rest of your life".  Get down on one knee and propose.  You can say your own cheesy stuff there, that was the first thing that came to my mind.
If you prefer a more social interaction (or you met at Hooters), you can try this way.  Take her back to her old bouncing grounds…or is it stomping grounds?  Whatever.  Take her there and find a fun way to propose.  You can check out our food related proposals here if you want to have the ring in a slice of cheesecake or at the bottom of a glass of champagne.  Or you can do something specific to the restaurant.  Perhaps you met at Dick's Last Resort.  You could have the waiter bring the ring to the table and throw the box on the floor in front of you.  When you get down to pick it up, you can open the box and the waiter can tell her to marry you.
The options are nearly endless.  You just have to decide what fits your restaurant and her personality and go from there.  Of course, if you get stumped,
email us
and we will try to help you figure a good one out.
Park
Maybe you met her in a park and you would like to revisit that special moment.  I am sure a proposal in the same park where you met will make her day as well.  Using a park as a springboard for your marriage proposal gives you tons of options.  Maybe it is a dog park and you can use man's best friend to help you.  Flash mob type proposals are a possibility in the open air of a park.
If you would rather go the more subtle route, then a romantic picnic proposal may be in your future.  Depending on where you live, you may also have the option to take her on a canoe ride or maybe even have a horse and carriage take you to your proposal site.  Live in a colder area and want to do it outside the warm summer months?  Don't let that stop you.  You can buy or even rent the propane powered protable heaters like many restaurants and bars use to keep their outside area warm.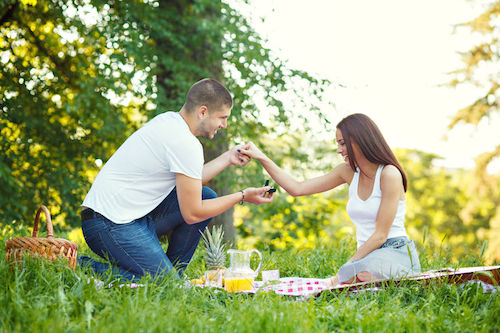 If your local park has a sand volleyball court, you can bring the beach to her.  Just pack a couple of towels or a big blanket, a picnic, and find yourself an app that plays ocean waves and sea gulls.  Voila!  You now have a romantic beach proposal.
A park is also a great place to enlist the help of a photographer to capture the moment you propose without her even knowing it.  Videos are also a possibility, but being outdoors can be tricky with the wind creating an audio nightmare.
Did you meet your lady in a park and want to propose to here there?  Email us and let us know.  We will try to help.
In Da Club
I know people say it never happens, but maybe you met at the club or a bar.  Have no fear, you can pull that off too.  You can propose to her in the same place you met, or even take it to the next level and go to a swankier club in a better city.
First, we will talk about just getting a club proposal done.  You can always ask the DJ to play some of the classic proposal songs, but let's fact it; most of those aren't very clubby and the DJ is going to want to be invited back, so you may have to choose your music at just the right time.
How you do it is totally different.  You can get in touch with the club owners beforehand and stage an "impromptu" dance off between you and someone you "accidentally" bump into.
Maybe at the end of your dance you could scoot over to her instead of your battle opponent and flash that ring at her.  No matter what you do, you are sure to win this one…unless you are too coked out and your buddy ends up in a 3 way with your girl.  That would stink.  If you haven't seen
Starsky & Hutch
, you have no idea what I am talking about, so go watch it and you will get it.
Another option is to take some friends with you and reserve a section / get bottle service at the club you are going to.  Of course many clubs don't have this, but if you can make it to a big city, you can up the ante on your first date and propose in style.  Who knows, maybe you will have a table next to someone famous.  She will feel like royalty all night getting to dance behind ropes and not get groped by every smelly dude around.
Want to try your hand at a night club marriage proposal but need some help?  Email us and we will see what we can do.
Where did you meet your lovely lady?  Would you like to go back to where it all started and propose to her there?  Let us know and we will be more than happy to help.
While you are thinking of how you want to propose, make her day and send her bouquet of flowersor a gift basket.