Do you have a snow bunny for a girlfriend?  Then a ski trip proposal is a great way for you to make an honest lady out of her.  This is a fun one that lends itself to several types of proposal opportunities.  You can do it privately or publicly.  If you choose publicly, the amount of people that will be around is bound to be relatively minimal so there should not be any worry of her being embarrassed.  Even if your lady is not a regular skier, you can certainly still use the ski trip creative proposal idea as yours.  It may be just the thing she needs to thaw her otherwise frozen body out and make her forget the potential misery of how cold she gets on the ski lifts.
So let's talk about the various ways to pull off this creative proposal idea.  As with many types of proposal ideas, you should try to reach out to the ski resort and get them involved.  You can ask them to write the proposal in the snow under one of the ski lifts that she can see as she is heading up the mountain.  So as she heads up the lift, it would look like this:
BEKAH
WILL
YOU
MARRY
ME
?
You can be in the chair with her as she heads up the lift and present her the ring on the lift.  You just have to be careful of the timing on this one.  She may get emotional and cause the lift to be stopped or even worse, knock the ring out of your hand.  Nobody wants to try and dig a ring out of the snow guessing where it fell.  That is like finding a needle in a stack of needles.  You could always tie one end of a string to the ring and the other end to the box so if it should fall, it is easier to retrieve.
One other way you could make it fun is to "accidentally" get separated from her on the chair lift line so you can ride up ahead of her.  She will read the proposal on the way up.  You can get off the lift and get down on one knee so she can see you as she crests the hill.  You run into the same risk of her stopping the lift, but who cares.  People can wait for a minute while you ask the most important question of your life.  She may get so excited that she yells out yes on the way up before you even get to show her the ring.
You certainly don't have to have it spelled in the snow to propose to her.  You can always just pull the "accidental" separation trick and meet her at the top.  Either way, I am sure she will be over the moon with excitement.
This creative proposal idea is one where you can take advantage of friends and other extras if you so desire.  Most people take a ski trip with friends, so having another couple double with you gives you the opportunity to use them to help set up the proposal.  Another lady friend can be a great way for you to get separated on the chair lifts so you can get to the top first.  The couples can also split up and while the girls are tearing up the double diamond runs, you and your buddy can be writing the proposal words in the snow on another part of the slopes (if the resort won't do it for you…or if you just want to do it yourself).
You can also have a friend or photographer stay near you snapping pictures of the whole day.  The photographer can be posted up a couple of lift chairs ahead of you if you want to do it in the chair on the way up.  Or they can be at the top of the mountain ready to capture her reaction as she crests the hill and also get a photo of you in the act of proposing.
Of course, the lifts and slopes are not the only part of ski resorts.  You can easily propose in another part of the resort.  The lodge is a place where you can make a scene in front of possibly hundreds of people.  Many lodges have a huge fireplace where you can stand and profess your love for your lady and ask her to marry you in front of everyone in the building.  Check out the map of Snowshoe, WV below.  You can see there are plenty of places to stay on the resort grounds.  Some have great views and fantastic amenities.  Regardless of where you choose to go skiing, there are bound to be great places to propose.
You can try to be sneaky and slip the ring inside her glove so that when she puts it on she will have to take it our to figure out what that annoying thing is in there.  You could do this in the area where you pick up your ski and boot rental as you are getting ready.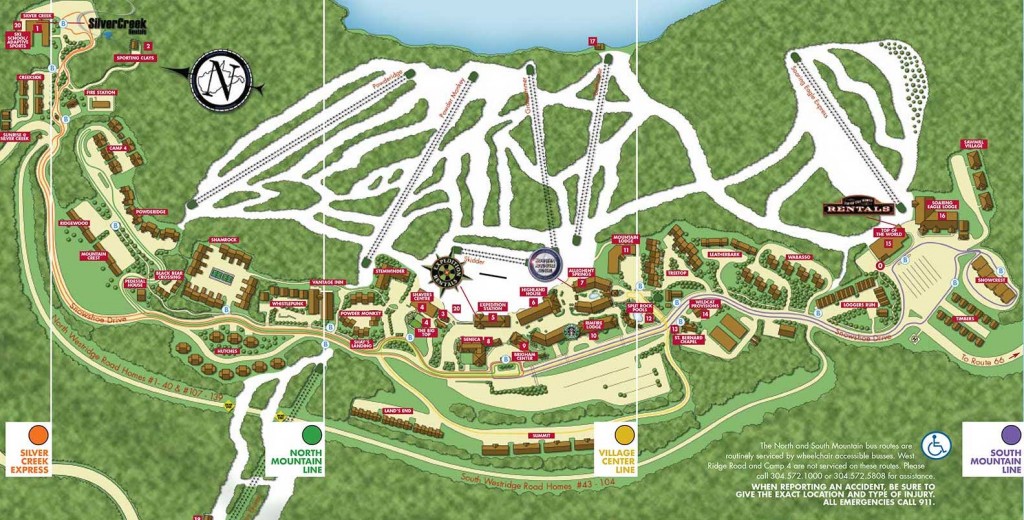 One of the glorious things about many ski resorts is that they have a small village with all kinds of lodging and food options.  If presenting the ring and proposing on the slopes is not something that you want to do, but still want to incorporate skiing into your proposal plans, you can simply make a romantic weekend out of it.  You could book one of the chalets, suites, or rooms that has a hot tub outside on the balcony.  Spend the day on the slopes, take her out to a nice dinner, and bring her back to your room to propose.  You can arrange to have your room decorated, music playing, and candles lit when you arrive back from dinner so the mood is set for you to propose.
What's that?  You want more details?  Sure thing.
I am a huge fan of thinking of romantic proposal day(s).  I think by stretching it out over the longest period of time is the best way to go.  It is a very special time, so you should definitely savor the flavor.  I can certainly understand many people are on a budget and a whole weekend at a ski resort can be expensive, so planning this one should be carefully done with your budgetary constraints in mind.  With that said, here we go.
No snow bunny is a true snow bunny without the proper skiing outfit.  If you are not regular skiers, I would not recommend getting her a new set of skis or even ski boots since you can rent them and you probably won't use them much more.  But I would say that you could get her a nice ski suit complete with gloves, socks, glasses, and hat.  Call me goofy, but I think chicks are hot in ski suits.  I am not sure why.  But that aside, your lady will feel wonderful wearing a new outfit.  Be sure to have fun with her outfit.  I recommend checking out Smartwool for the underwear and accessories.  You can get many types of matching striped socks, hats and gloves from them.  I don't have any ski suit preferences so you can go for whatever you want.  Don't forget the glasses.  For some reason, women love to have sunglasses to match every occasion.  Skiing will be no different.  You can spend a bunch on some fancy glasses, but if she is a newbie, you may want to make sure they are indestructible.  She may end up sitting on them or something crazy.
Packing for this trip is super important.  You will want to make sure you get several things to make the trip comfortable for her.  Hand and foot warmers are a must!  Even if you have to carry them in your pockets the whole day, you will want to make sure she stays comfy.  Another item to make sure you have at the ready is Chapstick.  Go out and get a fancy flavor for her.  Maybe a super fancy type or perhaps you can get her a root beer flavor or something like that.  She will most likely need some sort of hair ties at some point during the day as well.  She may not think it, but you should have some at the ready for when that moment comes.  You know your lady better than anyone else so you probably know other things she will want or need to be comfortable and feel good all day.
If you are able to get a room with a hot tub, she is going to need a bathing suit.  Finding one during the cold months is going to be tough, but I bet you can find some great clearance deals on any you do find.  Of course, if it is a private balcony, then maybe she won't need a suit at all.  Skinny soaking in the snow under the stars can be very romantic.  Again, pay attention to the details and make sure to pack a bottle or three of wine and some glasses (plastic ones preferably) so you can have a glass while in the hot tub.  Public service announcement:  Make sure to follow all the rules for consuming alcoholic beverages in water areas.
If you choose to double with friends and you are sharing a room, chalet, etc, then you may want to make sure they don't foul up your alone time.  My recommendation…get your own room.  🙂
Do you want to try this creative proposal idea and want some tips to help you pull it off? Email us and we will do what we can to help.
Lastly, while you are feeling romantic, show her just a fraction of how much you love her by sending a bouquet of flowers tomorrow. You will be the biggest stud she knows.