Holidays are a great time for creative marriage proposals.   While I personally would not propose on a holiday, many people do want to make that time even more special.  So for those of you, I have some great ideas to change things up a bit and make your proposal special.  One of the coolest ways I can think of to propose during the Christmas season is to use an Advent Calendar.  Not your traditional cardboard box with chocolates in it though.  You know you are going to have to put more into it than that. The good news is that I am here to help you out.  🙂
The actual physical calendar is less important the the items you choose to put in, on, or around it.  But you should think about getting something that you can use for the rest of your lives together.  If she has any interest at all in tradition and items with sentimental value, then picking out a nice one that will last forever is a good idea.  I even found an Advent House that is made from real brick and mortar!  Some women are going to enjoy the thought of the Advent Calendar, but like to decorate with something differently every year.  In that case you can choose from any number of crafty DIY ideas listed below.
Another idea, for those of you who are handy at building things, is to build one yourself out of wood.  If she is also crafty, then you can have her help you decorate it with you.  Simply tell her that you are making it for a friend at work so she does not think it is for her and won't be on to you.  That would make it even more special.  You can get some drawings and building plans from a few places listed below.  I am going to spend a little time going over some of the fantastic ideas, but anyone can go to google and find ideas for the physical calendars.  What you really want to know about are the items that you are going to put inside for each day of the month.  Those ideas are going to come later in the post.
First, let's go over some of these sweet ideas.
Buzzfeed has a list of 33 DIY Advent Calendar ideas.  You can visit them all by clicking here if you like, but I have pulled out the ones that I think are the best ones to use for this type of marriage proposal.  Or at least the ones that I felt were the easiest to work with for a creative proposal idea.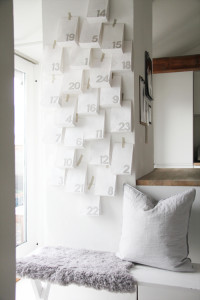 The Paper Bag Advent Calendar is great for those on a budget.
I like this idea because it is simple and can be used in almost any space available.  You don't have to be super creative or crafty to pull it off.  Since I am not a crafty guy, I have to rely on my creativity to make up for the lack of craftiness.
The bags make it a little tough to put large items in, but that is ok because you can always leave a note inside them pointing to where they are.  There is always a way to make these things work.  you just have to be open and flexible to go with it.  Just remember, she is not going to remember that she had to walk around the corner because her gift was not in the bag.  She is going to remember the best month of her life as she awaits a new special memento every day.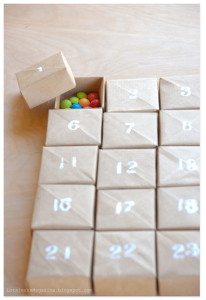 This Jewelry Box Advent Calendar is a wonderful idea for a creative marriage proposal because the last day is ultimately going to end up in one of these boxes.  Why not keep her guessing all month with all the boxes being the same?
I really love this idea because it can be put almost anywhere.  It does not require a lot of space and since the boxes are all the same size and shape, you can create a square, a tree, etc. using the boxes.
Again, the boxes are going to be small and all of your gifts are not going to fit inside them.  Like before, you can simply leave a note inside the box giving the location of the actual gift.  You may even just put the gift under the table that the box is on.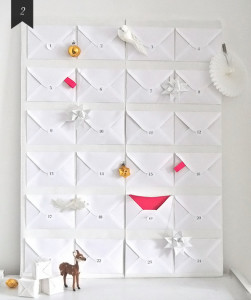 The Envelope Advent Calendar is another great idea for small spaces and a tight budget.  It is simple and elegant.  I love projects with clean lines and symmetry.
With this idea, you can change it up a little bit.  Instead of buying a gift for each day of the month, you can simply write a love note or just a couple of lines telling her how much she means to you.  This can be worth more than any gift or gifts ever can be.
If you use this example, on the last day you will simply put the ring box in front of the display on top of the envelope that is numbered 25.
Instead of a love note in this envelope, you will be on your knee to tell her how you feel instead of writing it down.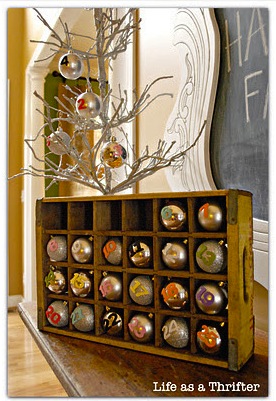 Using old wood to create a
Repurposed Advent Calendar
is something that you can do fairly cheaply.  As you can see in the image, you can even up your game and decorate ornaments with numbers on them instead of just having empty holes for your gifts to go in.
I like this idea because of its friendliness to the environment and it also can be used to compliment nearly any decor.  Even if the rustic wood look does not go will in your house, you can always paint it.
One more great thing about this type of Advent Calendar is that you (actually she) can leave it out all year long and simply decorate it for whatever season you are in.  This way she can always have it out to remind her of how much you love her and the most romantic month of her life.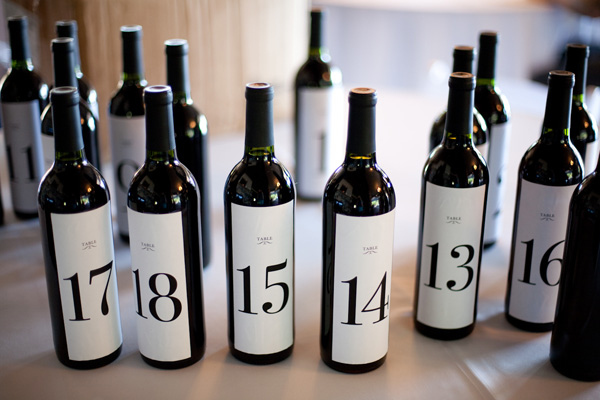 The Wine Bottle Advent Calendar can be done a couple of different ways and can be very expensive or on a budget.  You can buy her 25 bottles of wine and simply put numbers over the label.
If you are on a budget, then you can collect the wine bottles the two of you have been drinking over a couple of months and wash them out.  Since there is no cork in them, you can write your love note or clue to where the gift is on a piece of paper and roll it up inside the neck of the bottle each day.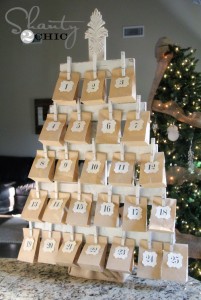 This next idea comes from Shanty2Chic and shows you how to make your own Advent Tree.  It is cool because it requires a little extra craftsmanship and decoration.  So it shows that you put a lot of extra effort into it.  They provide pretty great directions on how to build this tree.
There are obviously variations of this theme that you can build.  This is one of the ideas that I was speaking of earlier that you can have her help you decorate since you are making it for a friend from work.
If you don't think you can pull that off, then you can ask a crafty lady that you know to help you decorate it.  It is not that it will matter because she is going to love it either way.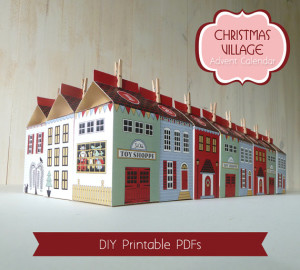 Etsy has some more really cool ideas for creating your own Christmas Village Advent Calendar.  I liked this one the best.  Perhaps it reminds me of the old school Happy Meals I used to get, or maybe it is because there are so many options for how you can set the village up.
This may be another time where you are going to have to enlist the help of someone who is crafty.  The great thing about buying kits is that they are made so that you can fairly easily put them together.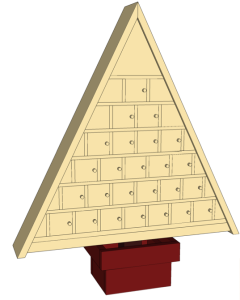 If you are a little more handy with your wood (not that wood you perv), then you could always try your hand at making a nice Wooden Advent Calendar on your own.  This will take time and skill, but for those who have those skills, it is probably an easy task.
The great thing about creating your own wooden advent calendar is that you are only limited by your imagination and the time and personal effort it takes to do so will mean so much to her.  Even if you are not crafty, you can always find someone who is to help you out.  Most things can be accomplished if you simply set your mind to them.
If you are super good, you can even make a replica of your house or something special to the both of you.  You could make a dollhouse, a tree house, a cabin…  The possibilities really are endless.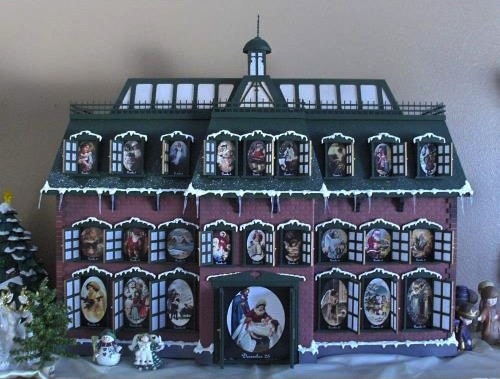 If you are really into building from kits and want something that make a very large statement, then this Mansion Advent Calendar is perfect.
It is quite detailed and very beautiful.  I see this as a great project for an established household.  It is not as playful as some of the other ideas listed above.  That is not to say the gifts cannot be whimsical and fun, just that it is a very nice kit and a little more conservative.
It is a bit more pricey than the other kits above, but totally worth the cost, especially in the long run as it can be a family tradition to be passed down for generations.
The next Christmas Advent House is truly the top of the line when it comes to Advent Calendars.  It is made with real brick and mortar, lights up, and has may options for you to make it your own special masterpiece.  At over two and a half feet wide, over two feet tall, and a food deep, it is truly a specimen to behold.  Placed in your home, it will most certainly be the focal point of any room.  It will set you back a pretty penny, but if you have champagne taste and a champagne budget, that should not be a problem for you.  Just remember, it is about the proposal, not just the presentation.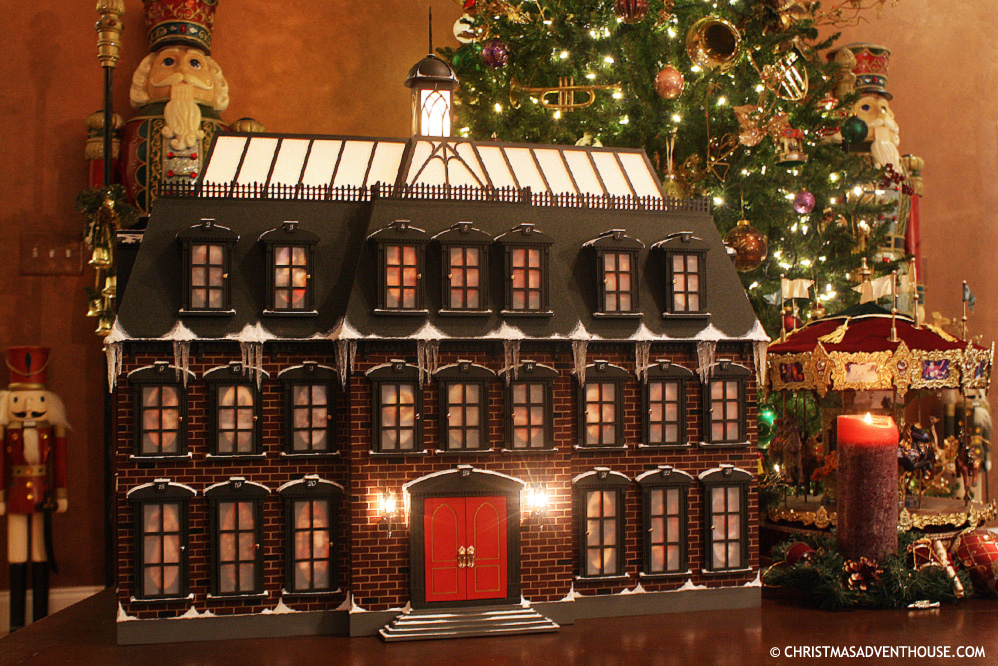 If making something is not your cup of tea, and the two advent houses are out of your price range, check out these examples of "Advent Calendars" you can buy from Overstock.com.  They are just as fun and serve the same purpose.
Apparently LL Bean has an annual special edition advent cabin they put out in limited editions.  I searched for one on their site, but this must only be a seasonal thing (I am writing this post in July) and I do not have my timing right.  I am not sure when they come out, but if you are interested in this proposal idea, check them out just to see if you like what they have for your year.
If none of the ideas above suit you, there is another place besides google that has a tremendous selection of all types of crafty ideas.  Pinterest is one of my favorite places to go and look for things where it isn't always about the highest bidder.  Creativity is rewarded and you can more easily find things that your love may actually want instead of just items that marketers want you to see.  If you don't already have your own Pinterest account, you should get one.  It will help you find any type of gift you are looking to buy for your love now (engagement ring) plus holidays and birthdays in the future…or at least until the next big social sharing site pops up.
Ok, by now you are probably tired of seeing all the different types of Advent Calendars and are waiting to see what type of things you should place inside of them.  Love notes are the most romantic and most budget friendly ways to fill all of the spots of your Advent Calendar.  This should be easy for you.  If this is the love of your life and you want to spend the rest of it together, then you certainly can come up with 24 things that you adore about her.  If you use an app like Evernote, you can create a note now and type up as many things as you can think of that you love about her.  You may only start out by thinking of a couple because you are not used to doing this, but the more you think about it, the more you will get.  As you spend more time with her and she does something that makes you smile, make a note of it.  Many times one thing will lead to another.  For those times when you are not together, think about what you miss about her.  Put those in your notebook as well.  Over the course of a couple of days or a week you should have plenty of things that you can make love notes out of.  I will give you some examples of things you might write if you are so inclined.
I love the way she looks at me when I get home from work.
I love that she has such a kind and generous heart.
I love how she takes care of me when I am sick.
I love the way her smell lingers on her pillow when I get into bed.
I love that she is so driven.
I love that she enjoys spending time with her family.
I love how she is good with children and will be a great mother.
I love that she puts up with my crazy schedule.
I love that she enjoys coming to the gym with me.
I love that she is very spiritual.
The list can go on forever.  The key is making sure you are true to your feelings for her.  Unless you are Dr. Phil, chances are you are not going to show or tell her how much you love her every day.  This is the time to do it.  You can simply write these sentences down and place them in each spot as the month goes on.  You can also write a little love note that explains your sentence in more detail.  As an example, if the note for the day is that you love the way she looks at you when you get home from work, then you can say how it makes you smile to think about her eyes gazing at you without blinking and that you look forward to it every day as much as you look forward to kissing her as soon as you walk in the door.
If you are looking to do something more than love notes, then one idea may be to buy her a charm bracelet for day one and fill the rest of the days with charms that mean something to her.  Pandora has a great selection of bracelets and hundreds of types of charms to choose from.  Jared also carries other brands of charms and bracelets to choose from.  You can use hearts for love, NFL charms for her favorite team, pets, family, flowers, and more.
These are just some examples of charms you can get for her.  Some can have something to do with love and some can simply relate to your lives.  I really like this idea.  So much so that I am putting together a page just for these options.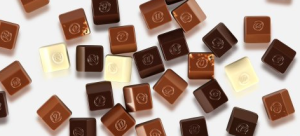 Some other options of things to fill in the boxes can be themed.  If your lady is a wine lover, then different wine gifts can be used.  You can have a vacuum sealer, toppers, bottles, etc.  If she is a fan of chocolate, then you could find all types of fancy chocolates.  At Z-Chocolat, you can buy all sorts of assortments or even make your own.
Of course there are other types of chocolates and candies that you can use.  Some can even be customized to suit your needs.  Hershey has some customization options if you want to stick with the chocolate theme.  If your lady just has a sweet tooth in general, Jelly Belly also has some fun things you can do.
If you are really wanting to go all out, some more ideas of items that you can place "inside" the box are below?
Sunglasses
Wallet
Purse
Perfume
Lingerie
Shoes
Earrings
Bracelet
Necklace
Wine Glasses
Clothing Items
iPod / iPhone
Kindle / Nook
Watch
Or you can use any other personal or inside joke gifts.  As an example, last year I went to the mall and had an ornament customized with Bekah's name on it.  She has always talked about how she has never been able to find an ornament or any other personalized items with the way her name is spelled on it.  You can find Rebecca and Becca all over the place, but Rebekah is nearly impossible to find.  So this year I got her one.  If I were doing an Advent Calendar for her, it would be something I put in one of the slots.
Just remember that it isn't always about the money you spend.  Goodness knows over the course of 24 days you can spend a whole boatload of money on stuff.  And with the big present coming on day 25, you may need to pace yourself.  If you are looking for some smaller dollar items, then you can use the below items as fillers for some of the days.
Chapstick
Hair Accessories
Headphones
Book
EarBands
Watch
Candle
Picture Frame
Water Bottle
The options here are truly endless.  Every relationship has its own unique set of interests, jokes, and secrets.  If you stay true to yours, then you will most certainly be her hero.  As always, you can reach out to me if you would like any help trying to figure out what to put in your personal Advent Calendar.
While you are pondering the items to put in your Advent Calendar, send a bouquet of flowers to her at work tomorrow. Or even better, how about an arrangement from Shari's Berries? Yummy!
Don't forget to sign up for our newsletter and get your free eBook on the top 20 Creative Proposal Ideas, plus you will get tons of free tips from us as you plan your big day.